DESCODIFICANT EL CODI POLLOCK
Enric Rota Jovani
Painter and designer formed in textile design and industrial design, being recognized with a A' Desing Award in artisanal design. (Visit http://www.erotajovani.com/)
He attended for two years at the textile design college, he was grateful to his teachers like Ramon Folch, Grau Garriga, Ràfols Casamada and Pablo Rodriguez Guy in terms of painting and collage.
He has started working as a freelance specializing in knits and yarns in drawings of sketches and prints, he learned first to mix colors with threads than painters.
After all these experiences he realized that color is prepended at the form, claiming the color nature as to meaning independent and its full dominion of  the forms.
By chromatic contrast to define a possible model of universe from the aesthetic point of view not like is made but of how it is structured visually.
Visit https://cromacosmos.wordpress.com
Visit http://cromacosmos.blogspot.com.es 
He had always been attracted by painting, but to focus the passion for painting just for all skills, abilities' and self-enjoying was not whats he was looking for, but at the end, he had the luck of find the reason or basis that led me to it.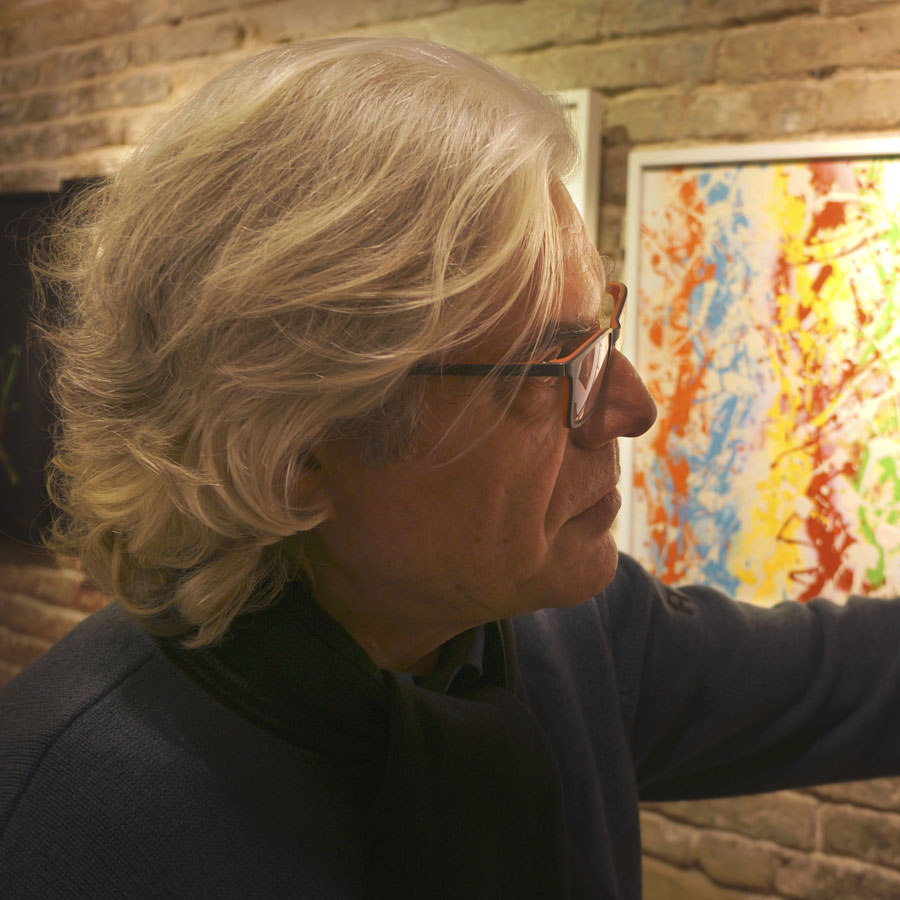 This led me to shape increasingly individualized forms and to defend them within a set of similar images, giving situations in which shapes are defined, emerge or prevail over the visual surroundings that surround them.
I do not like to paint with brushes I want to go out and dance with them, even fly with dance paint with the dripping. Complemented with simple and playful strokes that do not seek to break the harmony but find situations to dissect their harmonius order and discover new worlds beyond the basic or primal vision better said to go beyond the first vision.
My painting has to the be like a party must have quick movements and definite and concrete chromatic contrasts.
Jumo, run, stop, controller reflection at the right time when I have to stop or continue, a paper should not last long in my hands, I can let stand by but not for long, I need be surrounded as soon as possible of all them how much more visual information better. I realize that I cannot escape to nature as I am lways governed by a visual code established but maybe I can play decode it and discover underworlds within more or less harmonic environements. Through an action painting come to get a poetic abstraction.
My painting must be like a party, it must have fast movements and with defined and specific chromatic contrasts.
HAPPY AND SALVAGE VISUAL POETRY
Work
Motivation – Interview for La Hormigonera, Col·lectiu Cultural
Technics – Interview for La Hormigonera, Col·lectiu Cultural
Diffusion – Interview for La Hormigonera, Col·lectiu Cultural

Artistik painter and designer
C/ Laforja, 28 entlo. 2ª
08006 - Barcelona
Tel. +34 607 496 815
quiquerota@gmail.com